Boiler repairs
saturday 30th January 2010 we went to our local boiler engineers yard to see the intended work that will be being done very shortly,
here are a few pics of the boiler on a jig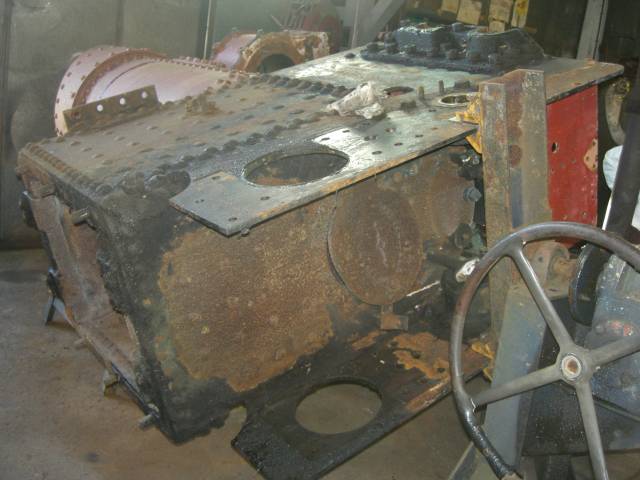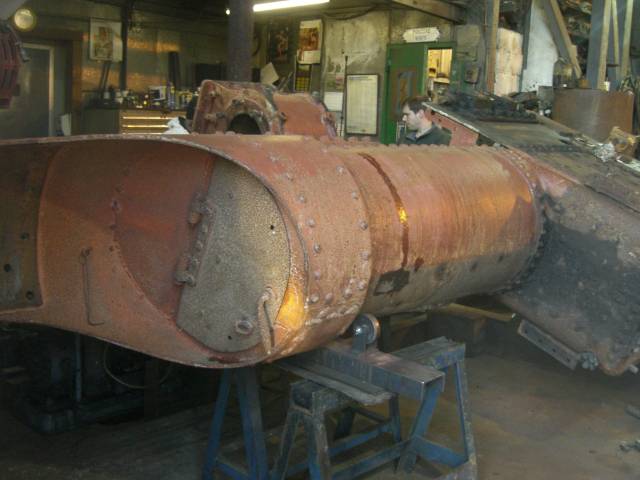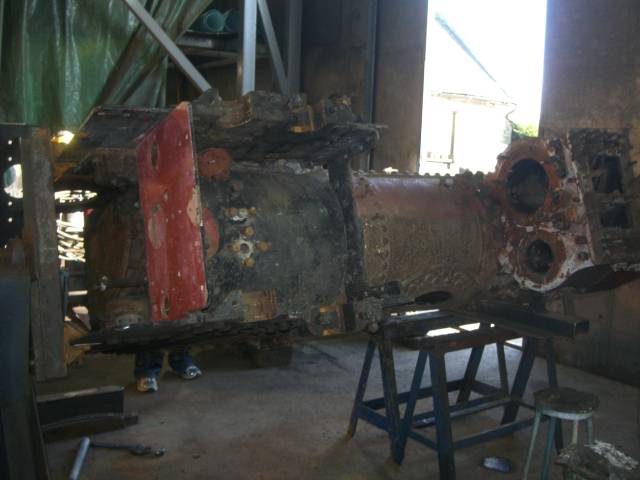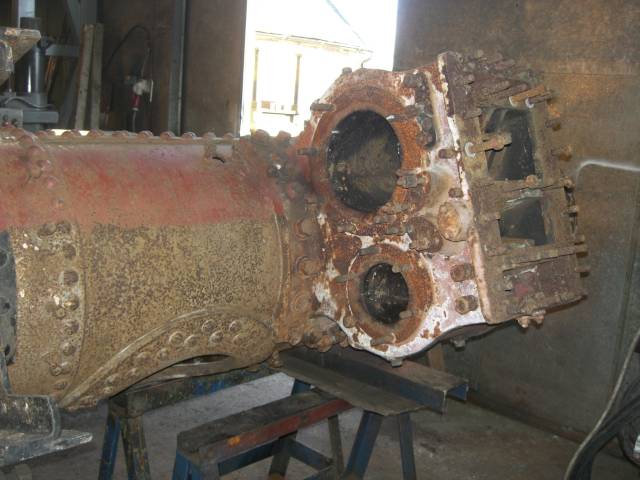 here is a close up on the area to be repaired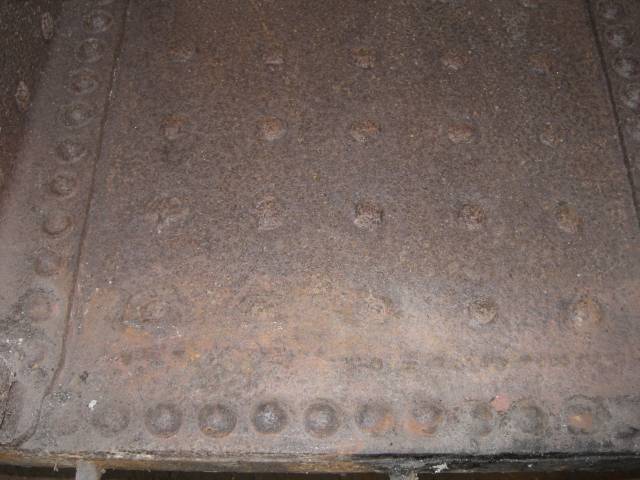 Same pic with area outlined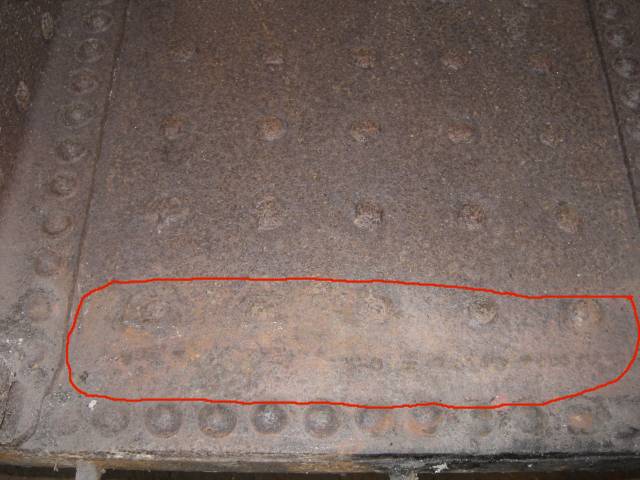 Friday 12th Febuary
Following a phone call to my father with a leg pulling line that our firebox was condemed, This joke was passed to jonathan, then to me later that day, It came to light that the boiler inspector had been to see Little Stoke and was very impressed with the boiler and firebox.
So we arranged to take up pipes and taps etc for The Engineers to put the boiler together for hydraulic and steam test, upon arrival we was met by An Engineer explaining how good condition Little Stoke was underneath 40 years of rust.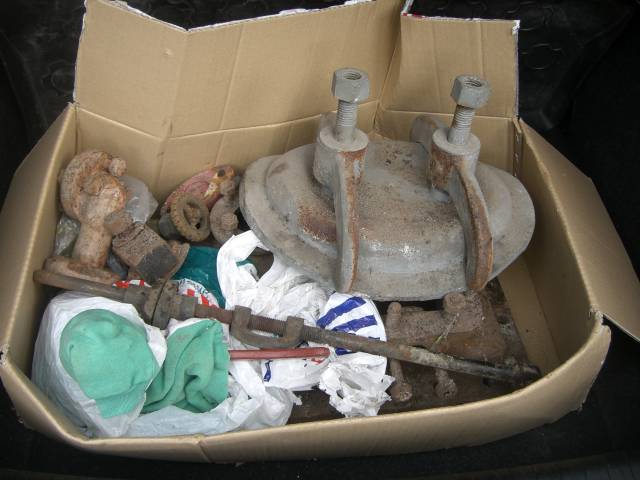 Above Boot full of fittings ready for transport in Nicks Car Boot
Below we can clearly see the work carried out by The Boiler Engineers , initially they removed 2 rows of stays.
But when they did so they found extensive corrosion on the 3rd row of stays, so they replaced those too!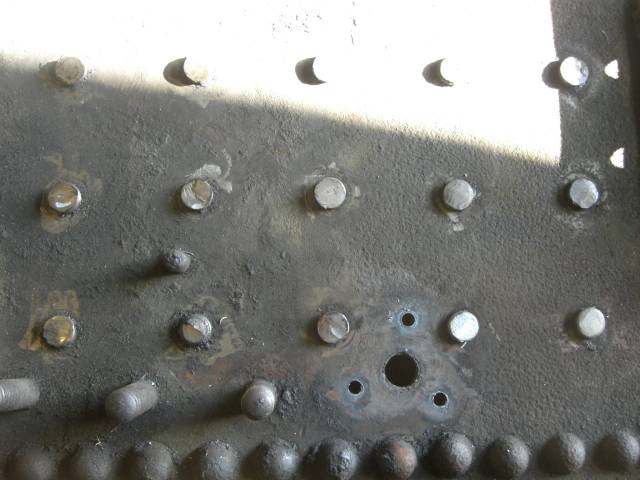 A close up of the 3 new rows of stays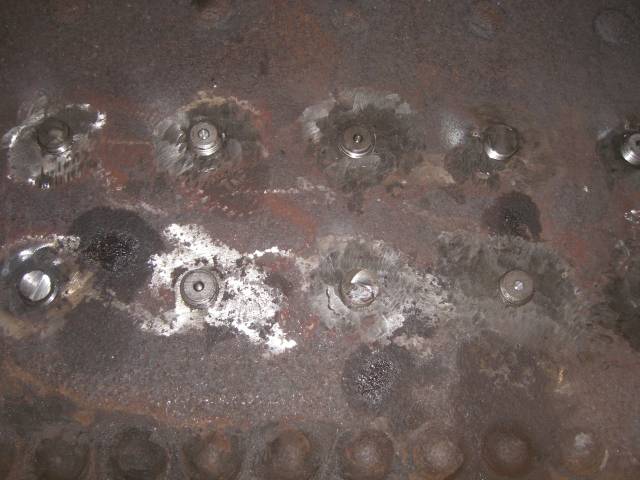 the opposite side of firebox
Thursday 11th March 2010
Here was a great day, David hallam got a call in the morning of Thursday 11th march saying that the boiler had been hydraulic tested
And in the afternoon they were going to steam test.
David called Jon and Nick and myself to invite them to see this, unfortunatly i was working, but Jon and Nick were able to go.
here are some pictures and video of this Great day..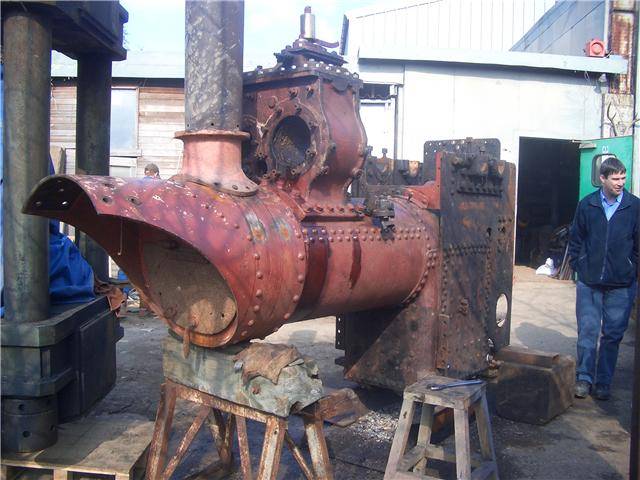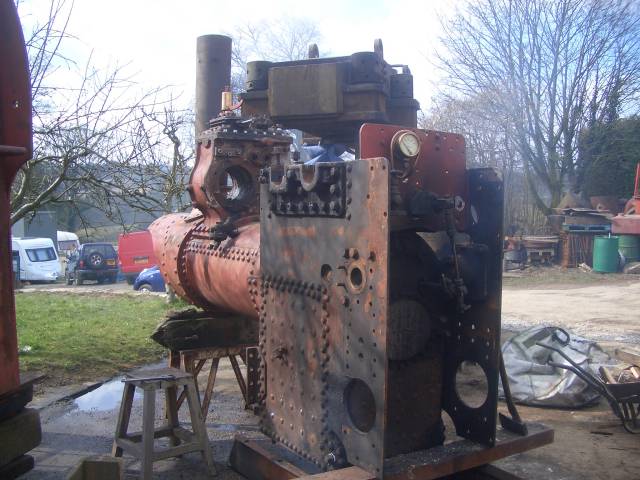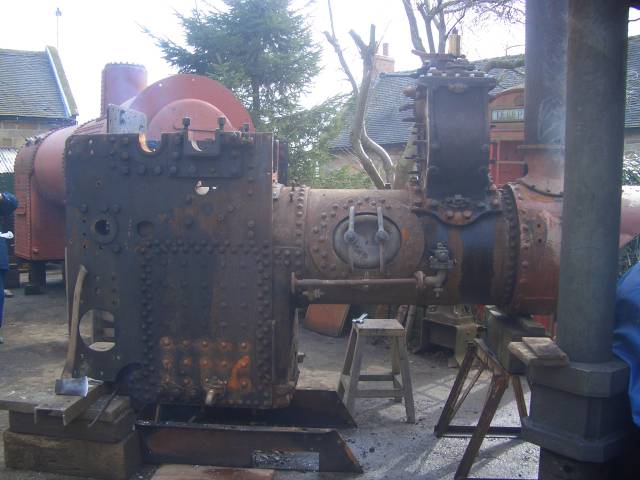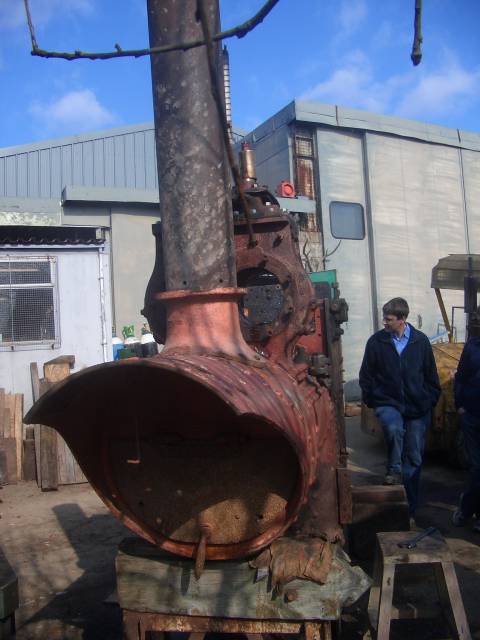 Pressure!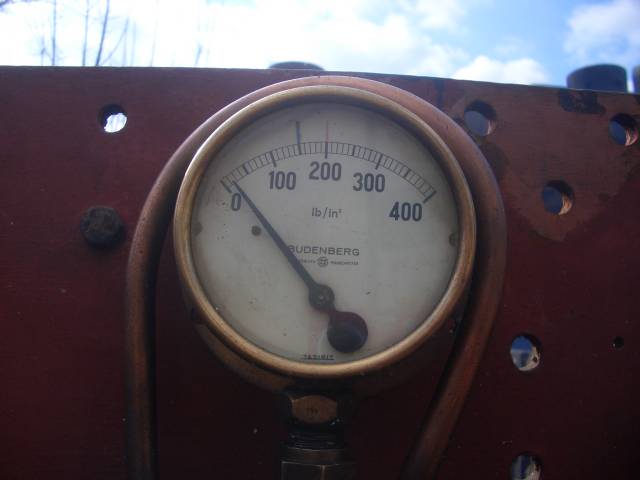 Lift Off
40 years of an empty boiler and no fire here is a wonderful sight of little Stoke's saftey valves lifting for the first time.
Saturday 20th March 2010
Little Stoke comes home
David,Jonny & Nick went along with a driver and a lorry to our local boiler engineers and fetched little stoke home,
here are some pictures of the boiler back home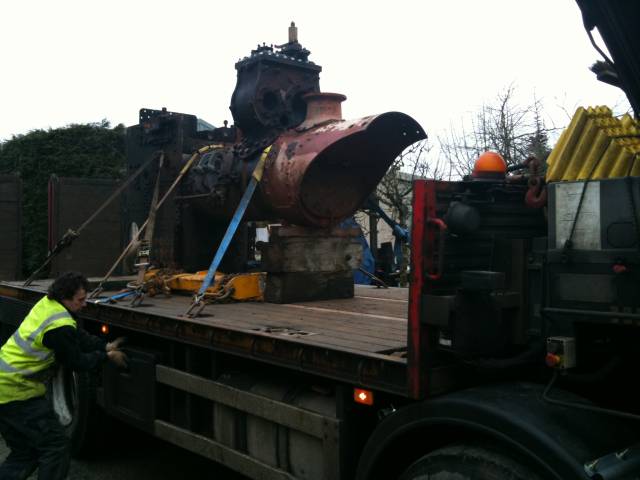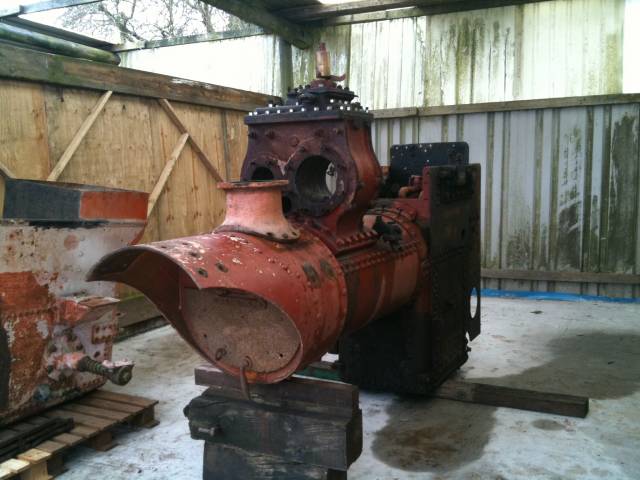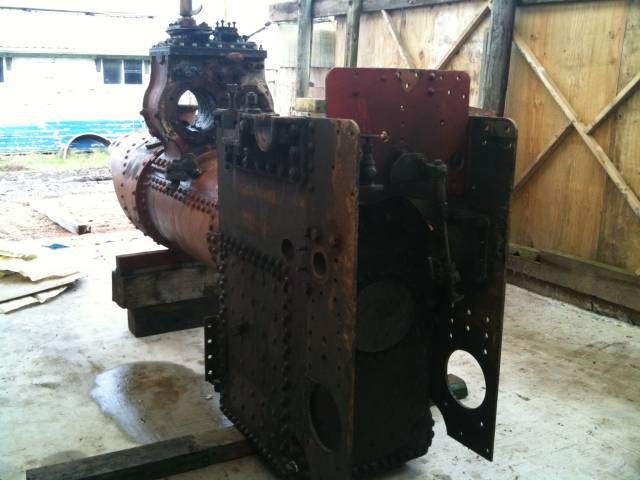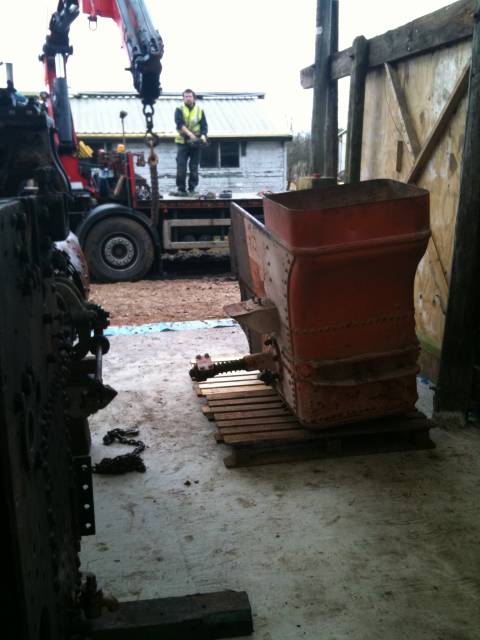 History repeats itself, David took time making sure the lorry could come a different way as we didn't want it getting stuck like the concrete wagon did.
To cut the story short, It got stuck! David called his friend Arthur Prime, He came with his Tractor and pulled the lorry to where it could grip.
Nick had the idea of getting the lorry crane to lift the tender into the shed.
This closes the boiler repair page please join us on the road to recovery click here to see.
-------------------------
I would like to thank all the people that transported and made the boiler repair possable.
Phil Hallam 23rd March 2010